A foray into the Indian Himalayas [Not for Pick Up]
08-31-2018, 05:04 PM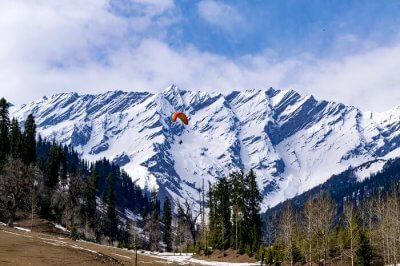 I was going through some of my older notes and low and behold, I find some brief notes on India (a destination I've visited a couple of times - I'm a fourth gen South African Indian).
India has one of the most awful reputations and profiles on this site, and with good reason. However, I have long subscribed to the view that a travel destination should not be judged solely on the ease or quality of its sexual facility but on more holistc grounds. Two of my most enjoyable trips have been to India (the Himalayan Route and Kerala - which I may discuss in another thread), largely due to its abundance in physical beauty.This thread is aimed at the traveller looking to be inspired by nature's grandeur. I hope someone may be inspired to visit the Indian Himalayas through this (I, unfortunately, haven't been to Nepal and can't provide a comparative experience). Also this is not an exhaustive list of Indian Himalayan sites, other places not mentioned include Sikkim, Shimla, tawang etc.
For members longing for solitude and quiet meditation, I highly recommend the Himalayas. Although I did this trip with my parents much of it was spent in silence - occupying the same vicinity but in quiet contemplation (a true growth experience for any man).
I must reiterate my prior point, consider this a formal disclaimer, this is not a datasheet in its traditional sense. You stand a significantly better chance of getting laid with quality in any other place on earth. This is intended purely as an outline of an incredibly scenic and awe inspiring region of Nothern India (the post is moderately long and may contain certain political musings, though I intend to keep it curt so as not to divert attention from the essence of my experience).
N.B. I visited the Himalayas during 2013 though I believe much is the same. The pictures of my trip are currently somewhere at my parents home. All pictures utilised here are from online sources. Further, they may be of places in different seasons.
ROUTE
-The best route would be flying in to Delhi and using a combination of train/bus to reach the relevant destination. I visited three primary locations during my stay Manali (Himachal Pradesh) - Leh, Ladakh (Jammu & Kashmir) - Srinagar Kashmir.
BEST SEASON
This is primarily dependent on your preference.
If you'd like to enjoy snow in Manali or Srinagar then December-January and there or thereabouts is ideal. Leh, unfortunately, is not accessible by road between November-April (due to snowfall), and even if it were it would be "balls cold" and not recommended.
Summer is a magnificent time (moderately hot days and slightly cold nights), and whilst you may not see snow at these bases (only on the ethereally snow-capped peaks) you will see amazing greenery. Ladakh will also be most pleasant at this time (though still chilly).
Both summer and winter are peak periods for Manali and Srinagar and you should probably time your journey slightly out of these periods. We travelled during September and I found it to be most pleasant and with lower rates (I'm told May is also not a particularly bad time).
MANALI
Manali is roughly 500 km away from Delhi. Though don't be fooled, 5-6 hours won't cut it. Budget a minimum of 14 hours for the trip, I would suggest travelling via train from Delhi to Chandigarh spending the night and then catching a bus or taxi to Manali depending on your budget.
Manali is a resort town on the mountains of Himachal Pradesh. It is at an altitude of 2 050 m. Not excessively high but if you're from a city close to sea level you should probably spend the first day relaxing and acclimatizing.
Our hotel was situated in the Solang Valley, probably the best area of Manali to stay in. I'm told that the area was a pristine and virgin hippie range during the 70s and 80s but since then tourism has exploded.
The mountains are an omnipresent backtrop to the fertile green hills and flowing rivers, however, the commercialization of the area significantly mars its peacefulness. Even in this quieter period there was still a not so insignificant cohort of tourists and clandestine touts present. Pretty much every standard amenity and tourist facility is available- kayaking and white water rafting and hot air balloons are all available (I suggest all). Some lovely treks like Beas Kund and Bhrigu Lake.
If you're travelling with a partner or children this will probably be the most enjoyable part of the trip for them as women and children are most partial to more commercial environs.
Leh, Ladakh
China lies to Ladakh's east and Indian Kashmir to its west. The oriental influence is strong and evident.
Leh is only accessible by road from May-October. The Rohtang Pass is the well known route to Leh. Under 500km, but. over 14 fucking hours. Leh is a cold desert. No vegetation apart from shrubs. Apparently Leh is home to Himalayan wolves, bears, snow leopards etc. though all I saw were a few birds (I could identify eagles but not much else). The city Leh itself has a population of roughly 30 000 people fluctuating depending on season. Largely bhuddist and I was told it was traditionally exclusively so (despite of it being in the state of Jammu and Kashmir the landscape is so treacherous that travel was not possible earlier). There are a couple of magnificent monastaries with interesting architecture. They also serve as a means of ridiculously cheap accomodation - I've heard great things about Thiksey Monastery. In general, less "touristy" than Manali but curios are not a rare sight and ample accomodation is available.
I spent the majority of my time trekking sans my parents. I teamed up with two random Australians to tackle Markha Valley and Stok Range. Thoroughly enjoyable, however, much of trekking in Ladakh was still in its infancy I wouldn't try anything overly adventurous. Guides are ridiculously priced and I'd go it privately though it is not very convenient.
Ladakh is vast and marvellous. It differs starkly from Manali, the pictures below should sufficiently highlight this.
This was probably my favourite leg of the trip.